Launch von Block and Start am 9. November 2022 um 19:00 im weXelerate
Am 9. November wird im Rahmen der wöchentlichen Community-Eventreihe Block&Wine das neue Format "Block and Start" erstmals vorgestellt. Block and Start bietet frühphasigen Startup-Teams mit Ideen für den Web3-Bereich eine Plattform, ein Netzwerk und bis zu 25.000 Euro Finanzierung in Form eines Investments pro Projekt.
"Wir unterstützen Talente dabei, ihre Ideen für Web3 umzusetzen. Web3 ist als Zukunftsthema angekommen. Jetzt ist die Zeit, Web3-Anwendungen und -Lösungen zu bauen und in diese zu investieren", sagt Block and Start-Gründer Georg Brameshuber.
Herzstück des neuen Ventures von Georg Brameshuber und seinem Team ist eine Startup Competition, die zum ersten Mal am 14.12.2022 online stattfindet. Bis zum 4. Dezember können sich Interessierte online auf www.blockandstart.com dafür bewerben. Geplant sind auch internationale Competitions in Belgrad, London, Tiflis. Bewerben können sich junge Startups von der Ideenphase bis ein Jahr nach der Gründung.
Die besten Startups stellen sich mit ihrem Pitch einer Expert:innenjury. Zu den Jurymitgliedern zählen namhafte Expert:innen aus der Blockchain- und Startupszene wie zum Beispiel Robby Schwertner (bekannt als CryptoRobby) und Michael Dorner, Geschäftsführer von VariusSystems, die die Krypto-Briefmarke 3.0 der Österreichischen Post AG realisierten.
Robby Schwertner, Head of Growth bei Block and Start ist, betont: "Die neue Initiative Block and Start füllt eine Lücke: Projekte zu NFTs und Blockchain-Technologie werden kaum von staatlicher Seite gefördert und wenn nur mit viel paperwork. Wir bieten eine unkomplizierte Startfinanzierung für Ideen zu Web3, NFTs und Metaverse und fördern Talente, engagierte Teams und gute Stories. Und wir helfen, Projekte in einer extrem frühen Phase zu gestalten und erkennen frühzeitig spannende Ventures"
Programmkoordinatorin Enea Alena Kiefer: "First-Money-In ist ein Gamechanger für Early Stage Startups und soll es den Gewinner:innen der Competition ermöglichen, ihre Ideen zu verwirklichen. Dabei unterstützen wir sie außerdem mit unserem Netzwerk und Finanz- bzw. Web3 Know-How."
Wir laden euch zum ersten Launch Event am 9.11. 2022 ab 18:30 Uhr im Startup Hub weXelerate, Praterstrasse 1!
Schaut vorbei: www.blockandwine.com
_______________________________________________________________________
Launch Event: 09.11.2022 ab 18:30 | weXelerate (Praterstrasse 1, 1020 Wien)
18.30 Open doors
19:00 Welcome by Block&Wine
19:15 Introducing Block and Start (Georg Brameshuber)
19:45 How to Block and Start (Enea Alena Kiefer)
20:00 Keynote von Robby Schwertner (CryptoRobby)
Danach Ausklang und Networking.
Livestream: https://www.youtube.com/watch?v=JHr0vBbeRu4
Mehr zu Block and Start: www.blockandstart.com
Für Rückfragen: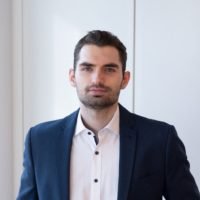 Clemens Otto ist CTO des Legal Tech Start-ups kontractory. Er studiert derzeit Wirtschaftsinformatik (Wirtschafts- und Sozialwissenschaften) an der WU Wien. Aufgrund seiner langjährigen Erfahrung im IT-Bereich und großer persönlicher Faszination hat er ein breites Verständnis für DLT, Blockchain-Technologie & Kryptoökonomie entwickelt.